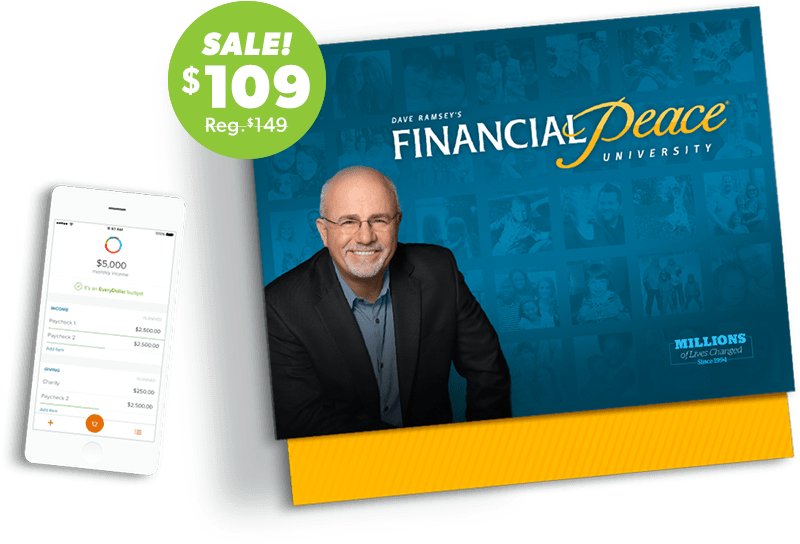 Never Worry About Money Again
Financial Peace University will help you take control of your money, plan for your future, and transform your life.
9 Lessons That Teach You How To Win With Money
Everything You Need to
Take Control of Your Money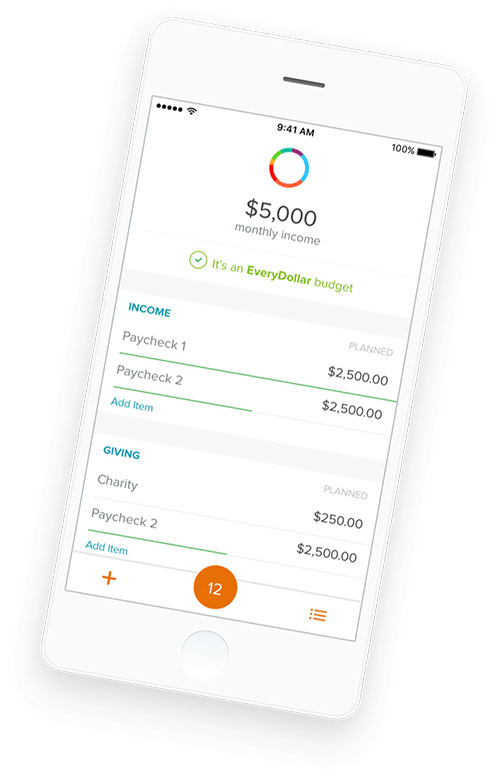 Track Spending
With Our Budgeting Tool
Connect your budget straight to your bank, sync across multiple devices, and enjoy anytime, anywhere access.
Learn From
Life-Changing Lessons
Watch entertaining videos, get your questions answered with financial coaching assistance, and stay on track with digital tools.
Budget, save and pay off debt.
Get on the same page with your spouse.
Identify which types of insurance you need.
Plan and save for major expenses.
Invest for your future, give generously, and more.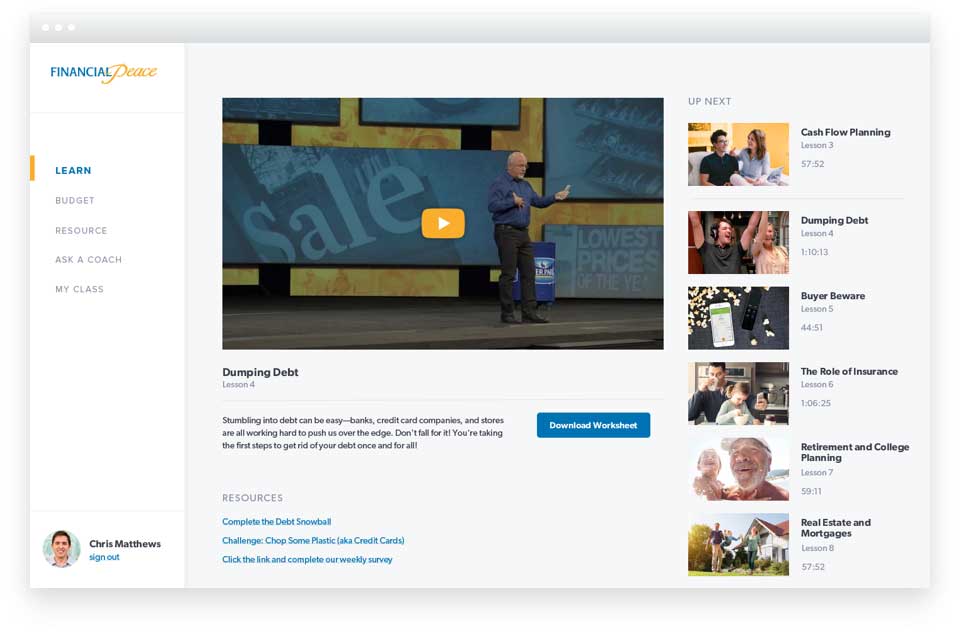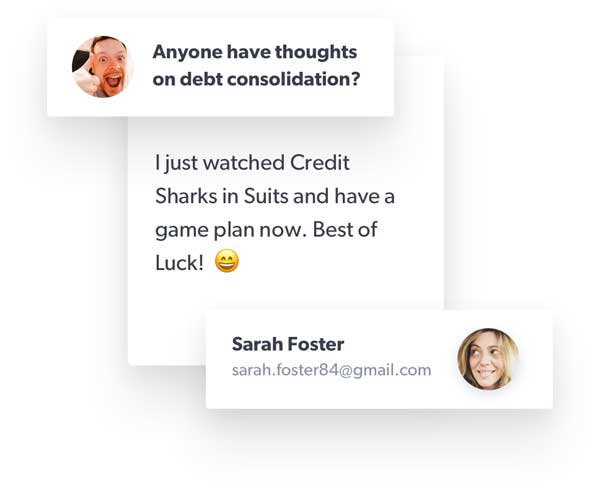 Take With a Group Nearby or Online at Home
Learn at your own pace by watching videos online and keep your progress moving forward with support from online community and financial coaches. Or join a group that meets near you and stay motivated by learning week by week with people just like you.
Did you know...?
Even though there are no groups currently near your location, you'll have access to Financial Peace University for an entire year! Start working the plan today and join a group when one becomes available.
You learn the same principles in the Online experience of Financial Peace University as you do with a group.
After checkout, you can start watching the lessons and using the tools and resources right away.
Dave has been there before. He gets it.
Dave Ramsey created Financial Peace University nearly 25 years ago after learning how to pay off debt, save and spend wisely, and build wealth. Today, millions have used the same principles to transform their lives.
Join the 5 Million People Who Have Taken Control of Their Money
My husband and I have been married 20 years and never operated on a budget. Our only regret is that we didn't do this years ago! We are now both on the same page and I don't have the feeling of guilt and worry that I used to have when trying to make ends meet. Cannot wait to be debt free!
Weezer
Council Bluffs, IA
Dave has help me get out of debt, stay out of debt & save, save save! I bought the financial peach dvd set for a young couple on the island. I am passing it forward. I highly recommend Dave to all. Everyone can benefit from his knowledge (the school of hard knocks). Thanks Dave.
Beachcombers
Edisto Beach, SC
FPU is the best investment my husband and I have made in ourselves this year! I grew up with a mother who worked in the financial industry so I knew how money worked, however, I had no clue how to set a proper budget. I always had bills paid, however never had any extra. Now, my husband and I are fully equipped to have a strong financial future! This program works, you just have to work the program!! So thankful for FPU, and Dave Ramsey!
Coley
Jefferson City, MO
Because of Dave's direct and energetic approach to a topic such as budgeting, we are finally moving in the right direction! I have read several of Dave's books in the past and always appreciated his advice. Since recently getting married and waking up to lots and lots of debt in our marriage my husband has been overwhelmed. This video series has caught his attention in a way that reading could not. Thanks again Dave! We just scheduled our first live classes to really immerse ourselves in our new budget plan/skills. CCB, The Woodland's TX
CCB36
The Woodlands, TX
This information is excellent. I was sad though to not be able to see the presenters. I tend to learn best with the visual reinforcements. It was my mistake and I just don't want others to go through the initial disappointment that I did. Though we are not in a financial bind, this program is driving an important organization process and has provided a detailed knowledge of where our resources go. We can now be more purposeful with them. Thank you.
HappyCouple2
Michigan
I have implimented all of of Dave ramseys ideas and will be debt free including house in 36 months, I have shared the strategies with my kids and set up a meeting with our financial planner to engage early savings. I am glad that Dave Ramsey and the group engages a love for the Savior and as a small boy I have always been a strong believer in his saving grace and have resolved to share his love forever. True happiness is measured by how we love our family (foremost the Savior). and to be happy!! As a family we are grateful for the financial guidance to help our family.
raisethebar
Salt lake city
I waited to do my review until i had completed the course. I bought FPU home edition because with 10 boys it is difficult to cut the time out of our week. The course probably would have been more fun with a group, but the material is life changing. I began as the free spirit in our relationship. Now she teases me and says I'm a bigger nerd than she ever was. We are taking control of our finances. Thank God for your calling and ministry Dave!
thunderbolt
little rock, arkansas
Gave this as a gift to my son 24yrs old and his bride. Just starting out they now have a plan that will have them handle their finances responsibly from the start. Both have expressed that they are really greatfull for having this enrollment in your course. It has changed their way of looking at their money and how they handle it. They are looking forward to a life together that is not only debt free but money issue arguments free. I'd say thats 95%+ of the battle headed off at the pass. The rest is intimate and I do not know of any course that I would recommend, for that they are on their own. Thanks for providing a resource of such great value. JC
Gratitude
Atl. GA
Financial Peace University is full of basic information that no one teaches formally and in a systematic style that is easy to follow . It is nice to hear from Dave Ramsey's examples and research that there are no secrets to wealth, just basic principles that followed over time will provide the resources for the way you want to live your life. I have and will continue to highly recommend this program to all that have money problems and to teenagers and college age students that are just starting out. I wish someone would have recommended this to me when I was that age.
bradyf222
Saint George, UT
excellent programs, would recommend to everyone wanting to control your own finances
yoyoco
pittsburgh, pa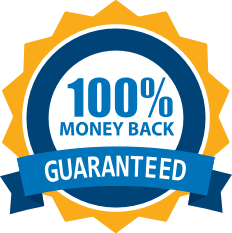 Our 100% Money Back Guarantee
Complete all nine lessons. Give it a real shot by following Dave's plan. If you aren't happy with your purchase within the first 90 days, we'll give you your money back.
You Can Do This.
Start Today!
You shouldn't feel overwhelmed and powerless over your money. You can be in control of your money and your future.
Interested in volunteering to be a Group Leader?