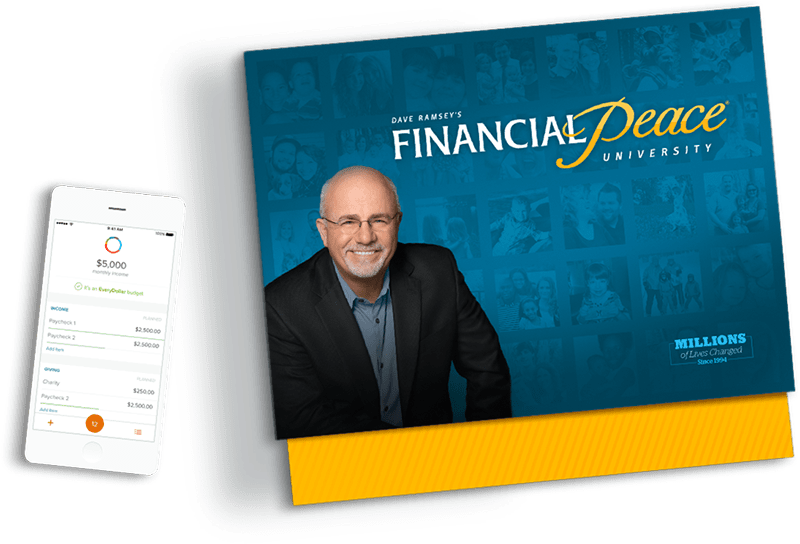 Never Worry About Money Again
Financial Peace University will help you take control of your money, plan for your future, and transform your life.
9 Lessons That Teach You How To Win With Money
Everything You Need to
Take Control of Your Money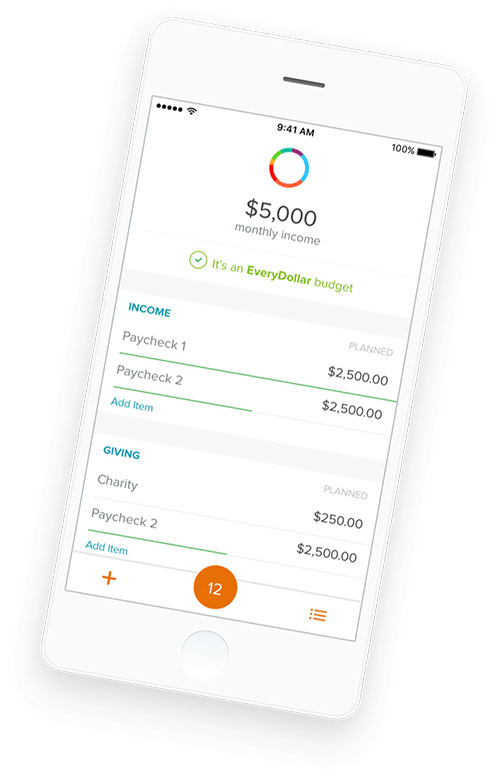 Track Spending
With Our Budgeting Tool
Connect your budget straight to your bank, sync across multiple devices, and enjoy anytime, anywhere access.
Learn From
Life-Changing Lessons
Watch entertaining videos, get your questions answered with financial coaching assistance, and stay on track with digital tools.
Budget, save and pay off debt.
Get on the same page with your spouse.
Identify which types of insurance you need.
Plan and save for major expenses.
Invest for your future, give generously, and more.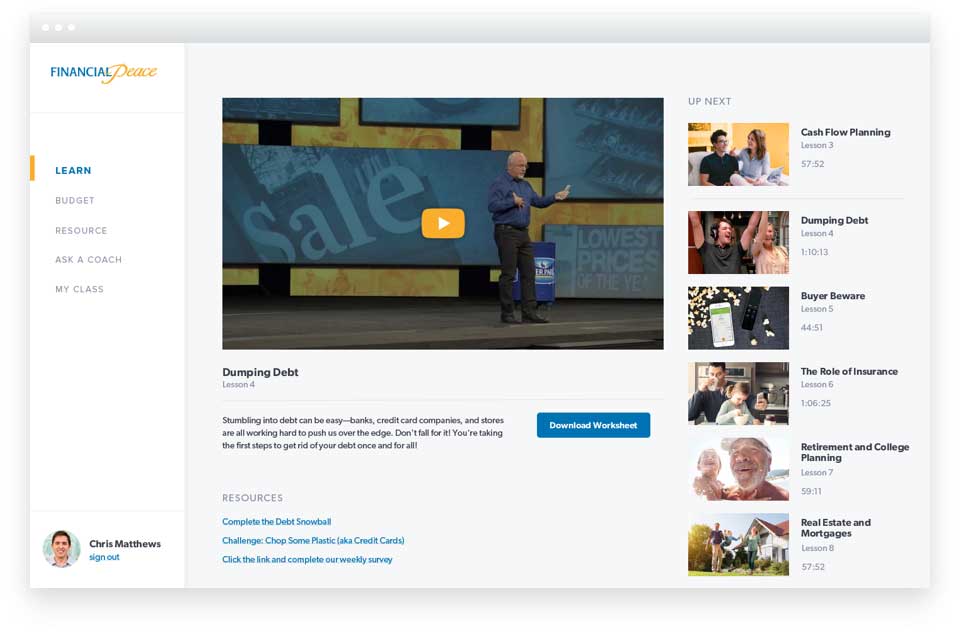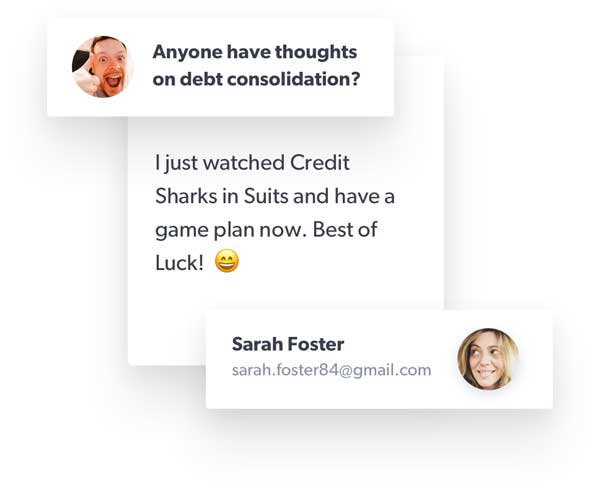 Take With a Group Nearby or Online at Home
Learn at your own pace by watching videos online and keep your progress moving forward with support from online community and financial coaches. Or join a group that meets near you and stay motivated by learning week by week with people just like you.
Did you know...?
Even though there are no groups currently near your location, you'll have access to Financial Peace University for an entire year! Start working the plan today and join a group when one becomes available.
You learn the same principles in the Online experience of Financial Peace University as you do with a group.
After checkout, you can start watching the lessons and using the tools and resources right away.
Dave has been there before. He gets it.
Dave Ramsey created Financial Peace University nearly 25 years ago after learning how to pay off debt, save and spend wisely, and build wealth. Today, millions have used the same principles to transform their lives.
Join the 5 Million People Who Have Taken Control of Their Money
We knew about the product before we purchased it and I had even read one of Dave's books. I guess what I didn't expect or was thrilled to discover, is that Dave is a great teacher. He's funny and intelligent and just easy to watch. We're learning a lot and enjoying the process. Thanks!
mkyoung
Cincinnati, OH
I've bought these cd's for mom who wants to improve her finacial standing in her old age, she is 78. She listens to them repeatedly.
Evey
Burlington, NC
As busy, working parents, my husband and I could not see a way we could be at peace while spending even more time away from our two small children each week for 13 weeks. The Home Study option gave us the opportunity to get a financial education while our little ones were sleeping just upstairs. It's great that the Kit includes two formats - DVD and CD. We listen to the CDs as we do our weekly chores around the house. We watch the DVDs for 45 min each Sunday evening. We haven't made much progress through the Baby Steps yet but how we think about money as a couple has been completely transformed. I'm the nerd and, in the past, I put together a budget each year and gave it to my free spirit husband have a look. He glanced at it and said "whatever you say honey"". Each month I would track our expenses by category and tell my free spirit about our progress and he would say ""whatever you say honey"". But now we both look at the budget and we both track our expenses. We don't make more money but we make more of our money each month. We'll be through Baby Step 1 within 1 month and solidly on our way through Baby Step 2 by the end of the summer. The Home Study Kit is the best of the both worlds - Financial Peace University and no extra time away from our kids. Not only would we recommend the program but we believe so firmly in the message that we plan to begin saving to purchase Financial Peace Home Study Kits to give as gifts to others interested in enriching their lives financially and spiritually."
NittanyLionsFan
Fallston, MD
Single mom, widowed with 2 kids, 11 and 15. Only debt is $16,000 in student loans. Home is paid for and college loans are my only debt. Started on Jan. 3 2010 and by end of Jan, paid down loan to 13,600 and by end of February, I will pay down an additional $2,000. My debt snowball will have me paid off by no later than July 2010. These loans would have taken me until Sept. 2019, had I paid the minimum payment. I should be debt-free by late summer of this year, having paid $16,000 off in about 8 months. My income totals $4,500 per month. What I love about the envelope system is that I have scrutinized my spending and whittled away excess waste. I did the plastectomy on my few credit cards and it felt awesome. I finally feel like I have a clear cut plan for my future and my childrens. I was doing everything backwards, funding the IRA and kids college instead of snowballing the debt. I started college mutual funds for my girls when they were just weeks old...and I've funded the IRA. I was just doing everything scatterbrained and without a concrete plan. I love FPU Revisited as well as Total Money Makeover. The quality of the FPU home kit is outstanding. This is the most valuable investment I have ever purchased. Now, I can't wait to whittle away at unnecessary spending, go crazy with yard sales and soon, be completely debt free. What a great lesson to get my girls involved in the whole budget process. Thank you and God Bless!!!
Jozee
Mogadore, OH
This program really stopped me in my tracks! I'm being much more careful with spending, continuing with my career dream and helping others with what I am learning. Thank you, Dave Ramsey, and God bless you!!
Lindi
Pike Road, AL
Financial Peace University in person just wasn't an option for our schedules. Our family chose to do the online combination. We are so glad we did! We can take our class with us wherever work takes us. Whenever we visit family, we can attend classes with them. It has been fun to talk about what we are learning about separately and to be on the same page, hundreds of miles apart. For people that are on the fence about whether or not they should take FPU, I say GO FOR IT! Not only have we learned about ourselves as individuals, we have learned about being a solid couple. Having seamless communication about money is such a blessing and takes the stress out of life.
MrMiyagi
Gainesville, FL
This information is excellent. I was sad though to not be able to see the presenters. I tend to learn best with the visual reinforcements. It was my mistake and I just don't want others to go through the initial disappointment that I did. Though we are not in a financial bind, this program is driving an important organization process and has provided a detailed knowledge of where our resources go. We can now be more purposeful with them. Thank you.
HappyCouple2
Michigan
This is the 3rd FPU I have bought as a wedding gift. I am greatfull for Dave's teachings. The lucky couples have ALL been very impressed with the knowledge and are working though the baby steps. Thank you, Wink
Wink
Chandler , AZ
I love this stuff and look forward to the future. Now I just have to persuade my free spirit husband. He does like the online classes because Dave is funny and entertaining!
TexasNerd
Texas
This course has already had an amazing impact on me. It is truly life changing. Although I have found my way out of debt before, I always seemed to easily slip right back in. Not this time. The information presented and the drills the course takes me through has me processing my actions in a completely different manner, which will be beneficial for me in the long term. Thanks for creating such a dynamic and life changing (easy to follow) program. The cost is also the best ever. I am truly thankful that Dave thought it sensible enough to offer the course at a reasonable rate so as to not have us create more debt (like other previous programs I've done). Thank you so much. You're a life saver.
WizJ
Alexandria, VA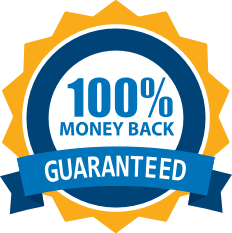 Our 100% Money Back Guarantee
Complete all nine lessons. Give it a real shot by following Dave's plan. If you aren't happy with your purchase within the first 90 days, we'll give you your money back.
You Can Do This.
Start Today!
You shouldn't feel overwhelmed and powerless over your money. You can be in control of your money and your future.
Interested in volunteering to be a Group Leader?